Year 9 Virtual Options Event
Deadline for submitting choices: Friday 26th October.
Welcome to the 2021 Year 9 Options Event. On this page you will find:
An introduction talk to explain each stage of the options process.
The link to book onto our telephone options Question and Answer evening on Tuesday 2nd February.
Information videos for all the subjects we offer.
A video how-to guide for submitting choices via the Options Online.
Introduction Talk
Options Booklet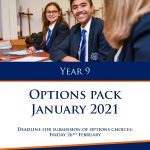 Options Q&A Evening
Book a telephone meeting with a subject at our Options Question and Answer Evening on Tuesday 2nd February 2021 https://murrayparkschool.schoolcloud.co.uk/
Subject Presentation Videos
Submitting Option Choices
The deadline for submitting option choices is Friday 26th of February 2021.
If you require any support with the options process, please contact us on options@murraypark.derby.sch.uk.