Key Stage 3:  PSHE
Curriculum Intent
The PSHE curriculum provides pupils with the knowledge, understanding, attitudes, values and skills they need in order to reach their potential as individuals and within the community. Pupils learn to understand and respect our common humanity, diversity and differences so that they can go on to form the effective, fulfilling relationships that are an essential part of life and learning. For all students to develop an understanding of the ever changing world in which we live, develop the skills necessary to take an active role in their community and manage their life effectively.
The PSHE programme will support the development of the skills, attitudes, values and patterns of behaviour, which enable our pupils to:
Have a sense of purpose
Value self and others
Form relationships
Make and act on informed decisions
Communicate effectively
Work with others
Respond to challenge
Be an active partner in their own learning
Be active citizens within the local community
Explore issues related to living in a democratic society
Become healthy and fulfilled individual
Curriculum Overview
As a department, we recognise that PSHE has a significant part to play in preparing children and young people to deal effectively with the pressures and challenges that growing up in the 21st century presents in our own community and in the UK. Pupils are encouraged to take part in a wide range of activities and experiences across and beyond the curriculum, contributing fully to the life of the school and community. In doing so, pupils learn to recognise their own worth, work well with others and become increasingly responsible for their own learning. They reflect on their experiences and understand how they are developing personally and socially, tackling many of the spiritual, moral, social and cultural issues that are part of growing up. Pupils study relationships and sex education as part of their PSHE course.
The pupils study a range of topics including: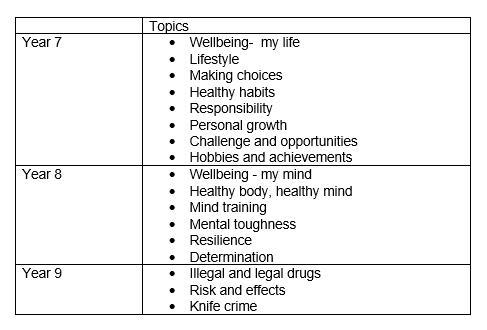 Extra-curricular activities
Drop down days and external visitors are used to support delivery of this subject.
Finance Education
Curriculum Overview