Key Stage 3:  Religious Studies
Curriculum Intent
In Religious Studies lesson we enable students to engage with and explore religion, including the 6 main world religions and humanism, so that they may develop and deepen their own sense of spirituality, appreciate and understand other beliefs and viewpoints and work towards academic excellence at Key Stage 3.
Our aims are:
To help students appreciate and understand other people's beliefs and viewpoints
To help students understand that the world is full of people whose views may differ greatly from their own
To enable students to respect someone else's viewpoint, even though it may differ greatly from their own
To equip students with the skills needed for dealing with situations where they encounter differing viewpoints and challenges to their own thinking
To help students understand that everyone's opinion matters, regardless of race, colour, religion, gender, age or sexual orientation.
Curriculum Overview
As a department, we recognise that RS has a significant part to play in preparing children and young people to deal effectively with the pressures and challenges that growing up in the 21st century presents in our own community and in the UK. Pupils are encouraged to take part in a wide range of activities and experiences across and beyond the curriculum, contributing fully to the life of the school and community. In doing so, pupils learn to recognise their own worth, work well with others and become increasingly responsible for their own learning. They reflect on their experiences and understand how they are developing personally and socially, tackling many of the spiritual, moral, social and cultural issues that are part of growing up.
The pupils study a range of topics including: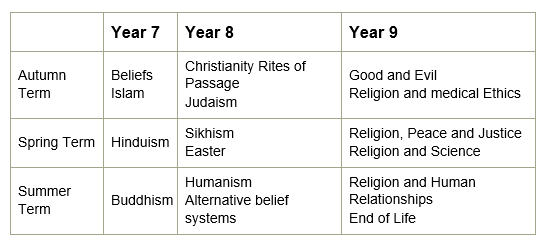 Extra-curricular activities
Drop down days and outside speakers are used to support the delivery of this subject.