Homework at Murray Park
As a school we will:
Guarantee equal opportunities for all students to access and complete all homework set, by ensuring resources are available, including access to IT equipment in non-lesson time during every school day.

Heads of Departments will help ensure subject work demands, in particular Centre Assessed Units, are carefully calendared to ensure that student workloads are manageable and subject conflicts are minimal.

Curricular and Pastoral Leaders will ensure that any parental concerns regarding homework are dealt with promptly and appropriately.
Teaching Staff will:
Set appropriate homework tasks in line with the time guidelines for the relevant year group and subject (see table below).

Ensure students record details in their planner and/or enter details onto Homework section of Go4Schools for student and parent access.

Check completion and standard of homework tasks, assess and use school rewards system if appropriate (Homework requiring marking will be marked in line with school Marking and Feedback Policy).

Return assessed homework to students within one week.

Ensure students who miss deadlines attend detention or homework club.
Students will:
Record homework tasks in planner and access the Homework section of Go4Schools for details of set tasks.

 

Label tasks as 'Homework', Date all work, Adhere to Murray Park standard of presentation (Title, date, underlined with a ruler, blue or black pen, drawings in pencil).

Complete and hand in all homework on time

Attend Homework Club or detention as instructed by teaching staff in order to complete missing work.
Parents will:
Check student's planner or Homework section of Go4Schools for details of set tasks.

Support students in meeting deadlines with well-presented and detailed work.

S

upport the school staff in ensuring that detentions or opportunities to do high quality homework in Homework Club are undertaken.
Homework Duration Guidance:
Homework should extend and enrich school based learning and the duration of tasks should be age and ability appropriate (maximum and minimum allocations should be adhered to). Therefore, the completion of such tasks should be achievable in an appropriate time frame. Teaching staff are expected to follow the year group and subject guidance below for homework task duration.

Throughout each half term all departments have the flexibility to set either regular weekly homework tasks or extended learning tasks, based on a structured time frame. Most departments will use a combination of weekly and extended tasks to ensure that work is specifically directed to the needs of the students and course requirements.

All references to frequency and duration are based on a weekly cycle. Due to the timetable, in practice homework may be set fortnightly i.e. IT for Y7 is set at 0.5 hours per week but in reality is likely to be set 1 hour per fortnight to allow time for work to be taken in and reviewed by staff. Homework should never be set with a deadline for the next day and all homework tasks which are assessed should have success criteria, which are shared with students at the time the homework is set. Results should be returned to students within one week.
Key Stage 3

Key Stage 4
At Key Stage 4, particularly in Year 11, some of the time allocated for homework will be used for self- supported study.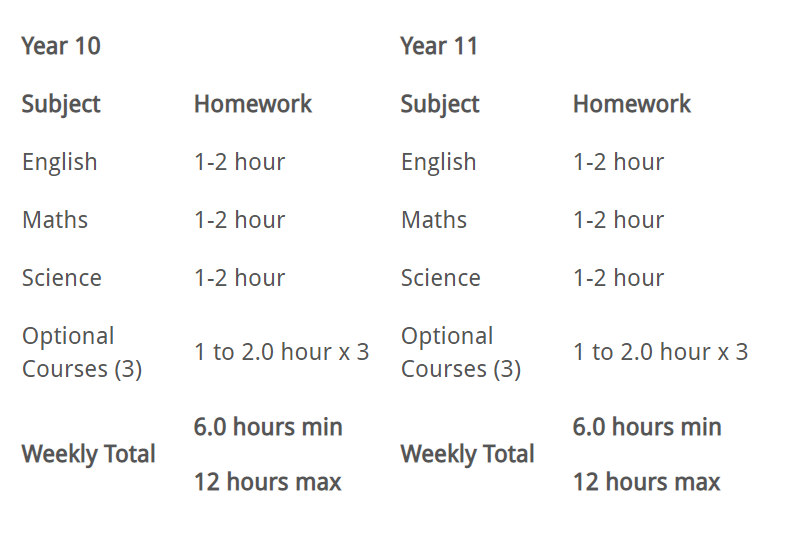 Type of Homework
The work set for homework is likely to include work that:
Develops/Encourages habits of individual self-discipline

Reinforces and extends any learning that has taken place in school – completing specific tasks

Provides opportunities for research and creativity for projects and classroom presentations.

Uses IT equipment to complete online questions e.g. MyMaths

Reading in preparation for the next stage of learning (Flip Learning) including preparing oral work for speaking and listening work.

Revision for exams or learning for tests.

Written assignments and projects.

The amount of work set should be both manageable by the students and in terms of preparation and marking manageable by the teacher.